How do I use the Keyword Analysis and Suggestion Tool?
What is it and where do I find it?
Keywords are words and phrases in your web content that make it possible for people to find your site through search engines. With Textmetrics, you can analyze keywords and determine their strength with the help of an overall score based on the Search Volume and Competition. Furthermore, this tool finds related search terms for your topic to help you choose the best possible keywords.
You can find the Keyword Analysis and Suggestion Tool in the menu on the left. Alternatively, while working on your content in the editor, access this feature under the Keyword tab.
Watch the video below or keep reading for more information.
Watch video
Select your language or country. This way, you make sure you're optimizing for the relevant country and Google domain.
Enter your keyword or keyword phrase in the field. For the best results, enter up to three words.
Click Analyze and give suggestions.
Click one of the keywords in the list to immediately create a new page in the editor, using this keyword.
Alternatively, click the magnifying glass to generate a new round of suggestions based on one of the suggested keywords in the list.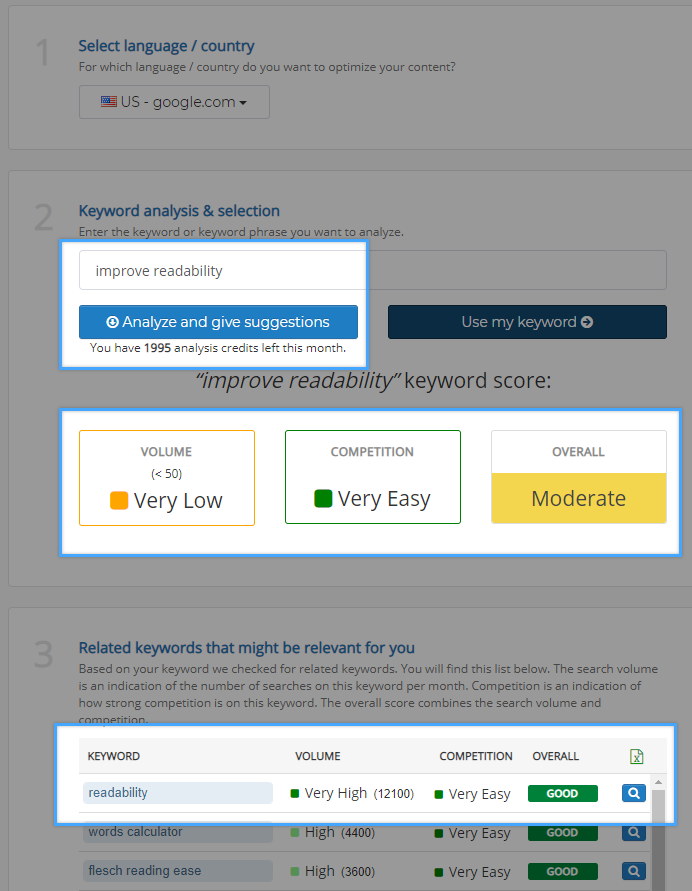 What is Search Volume?
The search volume gives you an indication of how often people search for this keyword. It represents the number of searches done per month. The higher the search volume, the more potential visitors you'll have if your page ranks high in search engine results.
What is Competition Rating?
The competition rating gives you an indication of how hard it will be to get high rankings in the search engine results. High competition means that there are many other websites targeting this specific keyword, or that some of these competing websites are considered to be very strong and authoritative.