How can Textmetrics help me improve my SEO?
Textmetrics helps you to easily analyze your text and optimize the quality of your content, as well as the SEO performance of your web pages.
Watch video
While you write your text in the Smart AI Writing Software, the sidebar on the right gives you real-time suggestions on how to improve your text. Simply follow these instructions to optimize your text and reach a perfect score.
Watch the video below for an introduction to Textmetrics' SEO feature, or keep reading for more information and tips.
Strong keywords are an important part of your SEO performance. Open the Keyword tab on the right or click the keyword field in the software, below your page title and description. Learn more about our Keyword Analysis and Suggestion feature, a great way to find out which keywords you should focus on.
Select the Optimize tab to automatically calculate the SEO score of your text. This score is based on various factors that are important for search engine rankings, ranging from the length of your title to how you use your keywords in your text.
Why are Page Titles important?
Page titles are important because it is the first thing people see when they find your web page. These titles also tell search engines what your content is about, so they know when to display it in the search results.
A good page title gives a clear idea of what your post is about, and makes people curious about what you have to say. Page titles are an important way to attract readers, so think of a catchy title that will trigger a user to visit your website when it's listed in the search results.
A well-optimized title contains at least 8 characters, 4 words and your keyword.
Why should I add a Page Description?
The page description is the piece of text that a search engine will show right below the title of your web page. It should clearly summarize what your page is about, so that both users and search engines know what type of content to expect.
Make sure you watch its length. When a description is too long, this means that the text may be cut off on the search results page. Textmetrics tells you how many characters you should aim for, as well as the preferred number of words and keywords to use.
Below you can see an example of what a website looks like in Google's search results: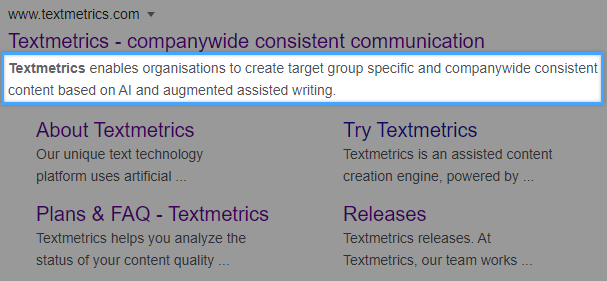 Why should my content be at least 450 words long?
Google and other search engines always want to offer the most relevant content for a specific search result. The relevance of content depends on many factors. Different studies show that text length is an important factor. At Textmetrics we determine the number of words based on an algorithm, in which we take the given keyword into account.
Textmetrics also gives you the option to work with a rule set that is less strict in terms of word count. Thanks to this option you can choose between different text types, adjusting the real-time SEO suggestions according to what works best for your content type.
Optimizing on different text types
The rule set option allows you to choose between different text types. These text types have a different rule set in the field of SEO. For example, you can select Article/blog when you're optimizing pages that contain a significant amount of content, like blog posts.
When you want to optimize a page that has less content, like a product description page for a web shop, you may want to choose Product page instead. This rule set is a bit less strict on content size. By selecting the right text type for your page, you make sure that your text will be optimized based on the right rule set!
You can change the rule set option when working on a page, under Settings.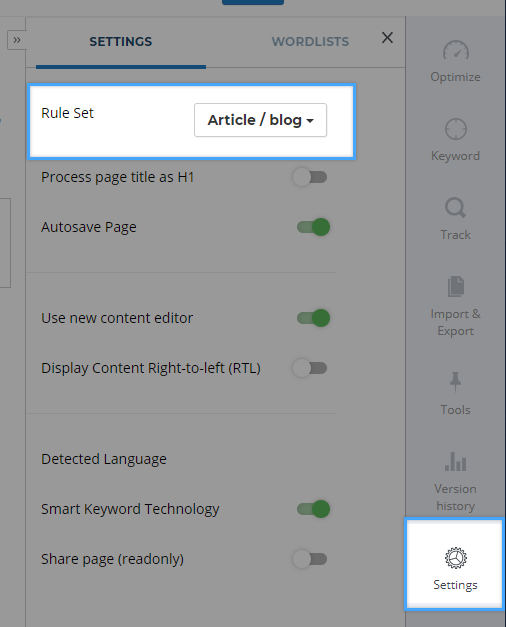 Can I get penalties for over-optimized content from Google by using Textmetrics?
Textmetrics optimizes your content in the best way possible. That also means that we don't want you to use your keyword 300 times in your texts. If you use Textmetrics in a serious way, you won't over-optimize your content and Google won't give you any penalties.
One of the ways to prevent over-optimization is our technique of checking for too many keywords in your text. Furthermore, we update our Smart AI Writing software regularly to make sure your SEO complies with all the latest best practices.
What I'm doing with Textmetrics, is that on-page SEO?
Yes, that's right.
You're optimizing your content for the search engines, and for your future readers. By adding structure, links, bold tags, italic tags, headings and paragraphs you're working on your on-page SEO.