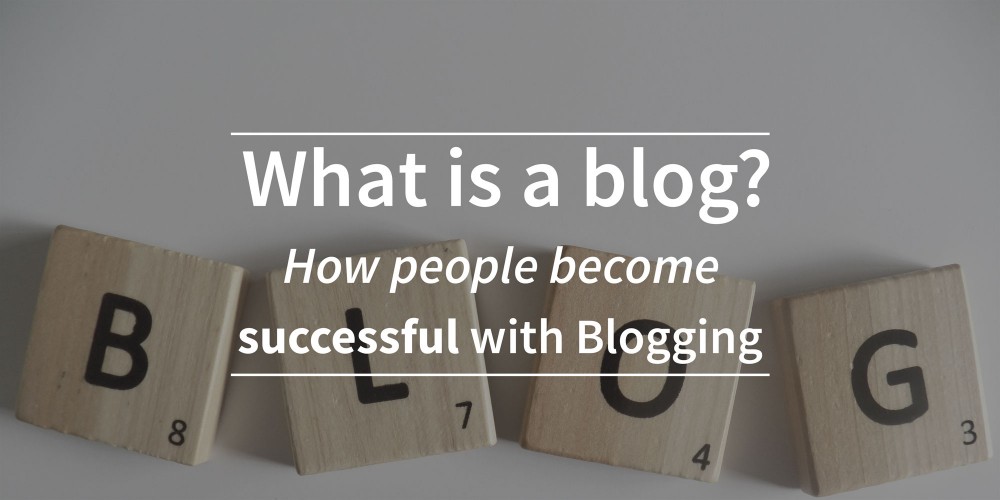 How People Become Successful with Blogging
Ever since the Internet started to become a part of every household, it has been a vital place to share ideas, values, emotions, opinions and advancements. It's very easy to reach and for this reason, the Internet is a platform for everyone to free their mind. One of the most convenient and productive way to do so is by creating a Blog. Many of you probably don't know exactly what this is. That's why we give you an answer to the question 'What is a blog?' today. We're here to guide you through the basics in blogging land.
What is a Blog?
A blog is a website which is maintained by an individual or small group of people, where they show their opinions, ideas, instructions and so on. It is different from a regular company website or something like that in a number of ways. Firstly it is updated regularly and secondly, it is written in conversational style. Readers of a blog are also able to comment on any post, unlike a website, where you can only comment on defined posts. The readers might agree or disagree with any point of the author. A blog could also be part of the regular website. It can be created with low to none financial assets and in return can get you handsome amount of cash.
Why Blogging?
There is not just one but a number of reasons why blogging is the way of communication you should use. Textmetrics can't list all of them but here are the most common ones.
To Express Oneself: This world has become so crowded that your thoughts and opinions are dubbed under those of elites and experts. Blogging is the perfect way to make your own opinion count.
To Promote Something: It is an efficient way promote yourself, your products, services, skills, and company.
To Help Others: This is becoming a very common purpose of blogging. People start a blog to help others with their knowledge and skill. Textmetrics is doing the same.
To Establish Oneself: Blog is a good platform for establishing oneself in any field of expertise. Many of these blogs have a particular topic in which the author demonstrates its expertise.
To Make Money: Blogging also can be used as a source of money. Authors earn amounts of money through advertising or affiliate marketing.
When is a Blog Successful?
There are many factors which play their part to make a blog successful. Writing a great content is just a part of a successful blog, factors apart from this are headlines. Headlines are what grabs the attention of the readers. The more attractive it is, the more visitor you will get. It tells the reader what is inside the post. A blog is successful when it gets a huge amount of regular visitors. They know what a particular blog offers and want to get updates from that blog. SEO or an easily searched blog are also signs of an successful blog. There is an unlimited number of blogs thriving to get the attention of visitors. The blog which comes first when searched for is more likely to be visited by the users, then the one which comes in last. SEO is what makes a blog come first searched.
SEO – Key to a Successful Blog
Many of you know what is a blog by now, then comes the SEO. SEO or Search Engine Optimization is basically the finishing touch of your blog. It makes sure that it comes on the top in the rankings when a particular topic is searched. SEO requires some technical knowledge and skills that could be gained from whitepapers. Of course, it takes a lot of time to master, but Textmetrics is there to help you out. Textmetrics lets you know how your post is regarding SEO, it provide guidance to write accordingly and even provide options to improve your post. This tool helps you out choosing right keywords and provide suggestion and tips which you can apply directly.
Ultimately, blogging is a creative tool to make you stand out of the crowd and prove your expertise until it is successful. If you are not sure what to write on, then read this, it will help you out. As far as technical things are concerned, use Textmetrics. Subscribe now and get 7 days free trial period.

Create your free Textmetrics account and start optimizing your web content!