In my previous blog post I explained how I used Wetexttool to compile a list of keywords that are important for optimizing my website. I also put a plan together to determine when and what content I need to publish on my website. Because writing one SEO (search engine optimisation) article is not enough, you need a website with multiple articles in order to end up high in Google's search engine rankings.
The articles I have written have been highly optimised thanks to Textmetrics. The only issue I occasionally have to deal with is my own schedule. There's a lot of writing work involved op top of other activities I have to do for my business. But the long term goal is to get more customers, which means that if I write properly now, I can spend more time on photography in the future. For inspiration and information I watch weekly videos from Kyrill from Textmetrics. And this is how I always learn something new about SEO.


Collecting backlinks
In video number four about link building, Kyrill explains how important link building is for SEO. Because Google keeps track of how many "backlinks" your website is getting. Backlinks are links on other websites that point to your website. Let's say, for example, I take a wedding photo that makes the national news because a celebrity is in it. I will get many backlinks because different media will share the article and link to my blog. In addition, newspaper and television websites usually have high traffic, therefore many people will read the article. That is an example of the perfect backlink.
Unfortunately, it's very unlikely that you will write a newsworthy article on your website that will be picked up by all national media. It's often a matter of coincidence whether a topic of a blog post will turn into a hype. But luckily it is possible to manipulate this a bit and attract enough backlinks. In video number four it is recommended to ensure that your website offers opportunities for the reader to share a blog post on social media. Think of Twitter, Facebook, Instagram or Pinterest. When one of your visitors shares your blog post online, that action is also seen by potential new customers. I already have these share buttons on my website, but I have the impression that it's not being used very much. Except on Facebook itself, where I do have a reasonably active group of loyal followers. Maybe if I'll write more interesting blog posts, readers will make more use of the share buttons on my website. I hope so!
Another idea to gather more backlinks is to use the "quid pro quo" principle, and approach other bloggers, brands or companies to place a link to your site online. This will earn you an extra backlink and in return you can link to their sites from your website. They have a backlink, you have a backlink. I should point out though that you will need to be critical about which sites you want to collaborate with. Because if you choose products that are too far away from you, you may have earned a backlink, but you won't attract the right audience.
Last year I put some photos online of a wedding in Friesland. I had emailed the venue, the Pollepleats, and informed them that I had put the photos online and that they were allowed to use them on their website, in exchange for a link to my website. Without understanding the concept of backlinks at the time, I had already arranged one! If you're curious, you can look it up here: www.pollepleats.nl. This even led to a new customer, because this year I have again photographed a wedding in the Pollepleats. It could not get any better!
Next week I would like to make a list of companies and bloggers that I could approach for backlinks. This could be, for example, wedding planners, printing companies that make wedding albums, and venues where weddings regularly take place. Can you think of more things? All tips are welcome!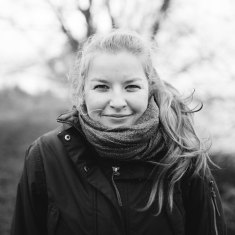 Do you want to know more about my first baby steps concerning search engine optimization (SEO), read my other blogs about starting with SEO, finding the best keywords and writing for SEO.
Sophie
Create your free Textmetrics account below and start optimizing your web content!