In 2018 you still want to rank as high as possible in relevant search engine results. But the developments in SEO-land never cease. Which methods will work just as well next year as they have in the past? And what is set to change? We've lined up the most important evolutions in search engine optimization. These are the SEO trends to focus on in 2018.
#1The basics of SEO stay the same
Google has been the search engine with the highest market share for years now. The company's mission hasn't changed: to offer its users relevant and high-quality search results.
This means that any long-term SEO strategy should be focused on the (continued) creation of qualitative and relevant content. Clever 'tricks' to launch yourself higher in the search results should never be the basis of your strategy.
All that aside, there are a handful of technical and content-based requirements that your presented content should follow. They form the basis of SEO.
The page loads quickly (ideally within two seconds)

The page is optimized for mobile users

You use a 'meta tag' to describe the page's contents

You only apply search terms when they are relevant

Any outgoing links direct readers to high-quality pages

No errors in spelling or grammar

The title and first 100 words make clear what the page is about

Your website follows the Google guidelines for webmasters
#2 Voice Search
While the basics of SEO remain the same, there will definitely be some changes over the next few years. One of the most exciting new developments is the rise of Voice Search.
In the USA, 1 in 5 search queries is a voice search using a mobile device. In light of the growing popularity of so-called 'smart speakers' like Google Home and Amazon Alexa, that percentage is expected to keep increasing.
What does Voice Search mean for the ways you produce your content? It will be even more important to write in a direct and personal way. Try reading your words out loud. Do they sound the way they would if you were talking to someone?
But there is another significant SEO trend linked to the rise of voice searches.
#3 Direct answers from Google
Google frequently offers direct answers to your queries, rather than directing you to a website. For example: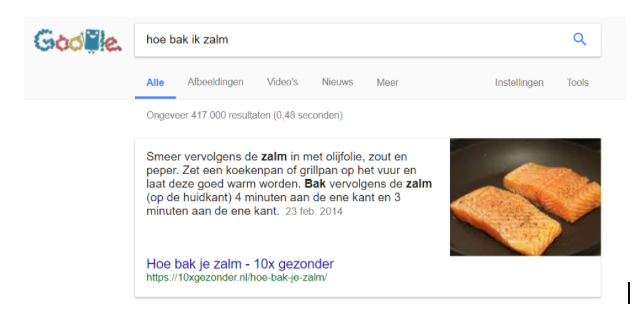 Above is the answer to the question:"Hoe bak ik zalm?' ("How do you bake salmon?")
Instead of just a link to a relevant page, Google shows you a 'featured snippet.' Sometimes that answer covers what the person was looking for, other times they'll click through to the website.
Generally, it's a smart strategy to use the answers to 'how-to' and 'what-is' questions in an attempt to make it into the featured snippet slot.
#4 User Experience (UX)
Google is getting better and better at measuring user experience.
How easy is it to navigate your site?

Can visitors quickly find the information they're looking for?

Are annoying ads and pop-ups kept to a minimum?
Aim for the following things when optimizing for UX:
Is the content visually attractive?

Does the layout distract from the content?

Is the text easy to read (font size, spacing)?

Are you using paragraph headers to allow for easy text scanning?

Are visitors encouraged to click through (call-to-action, links to other pages)?
Read more in our blog post: 5 reasons why User Experience (UX) is important for SEO.
#5 Mobile first
For years marketers have been calling for 'mobile-first' websites.
Depending on your sector, you might already be reaching most of your visitors through their mobile devices. Have you followed those tips? Then you shouldn't have any worries in 2018.
For any organizations who have ignored their mobile audience until now, 2018 might be a bit of a disaster. It seems that Google will finally be rolling out its 'mobile-first' index. That means you'll get bumped down significantly in search results if your pages are full of huge images or if your mobile menu structure is lacking.
#6 Link earning
Link building is one of the basic elements of search engine optimization. Because websites link to each other, Google gets which content is and isn't relevant.
In SEO's early years, you could pay certain companies to spread links to your website all over the internet. The effectiveness of those strategies is virtually non-existent these days.
Instead of link building, it's better to consider 'link earning.' Produce truly unique content and let others know about it. The links to your website are sure to follow.
#7 Produce or embed videos
Both Google and Facebook are increasing their focus on video. Do you have the budget available? Then well-produced videos can pull in a significant number of new visitors.
Do you mostly create blogs and articles? Consider incorporating relevant (!) videos in your text. The same goes for infographics and other rich content. Your visitors are sure to appreciate it and so will Google.
#8 Authority is becoming more important
In response to the "fake news" scandals of recent years, Google has started to pay more attention to a website's authority. How long has your website been around? Which other authoritative sources link back to your site?
A great strategy to gain authority as a commercial party is to get mentioned by (well-known) media sources. Consider organizing a benefit or publishing a research piece. Press mentions will deliver you a higher Google ranking.
#9 
Algorithm with artificial intelligence
Until recently webmasters would take important Google updates into consideration when making changes to their website. If an update showed that page load time had become more important, that's the kind of improvement you would implement on your end.
Nowadays the search engine giant uses artificial intelligence in its algorithms, which has them consistently improving. Think of it as an ongoing update.
Conclusion: SEO in 2018 is hard work
SEO in 2018 will need continued efforts to improve. In order to rank high in search results, you need to keep creating high-quality content. Don't forget to incorporate the basics of SEO, featured snippets, rich content (like videos), link earning, and UX in your strategy.
To make sure you're implementing these SEO trends efficiently, give Textmetrics a try! Our editor offers up automated prompts to help you optimize your pages. And thanks to our page trackers you'll be able to monitor your Google ranking 24/7. You'll receive a message anytime a change occurs.