Coming up with a captivating title for your blog is harder than it seems. It is also super important: most people won't decide to read your piece until after they have seen the title. So it makes sense that most writers want to make the headline as catchy as possible. Full of promises, UNBELIEVABLE superlatives, and you'll never guess what happened next…
People got tired of clickbait.
Viral website Upworthy – once the "fastest growing medium of all time" – saw its site traffic drop by 75% in virtually no time. Competitor Buzzfeed also got hit with dwindling website traffic in 2017.
Unfortunately, many articles about blog titles are still based on the heyday of the clickbait model. They definitely provide some good tips, but lots of information in them has become irrelevant. This article describes how to write a compelling blog title, even in 2018.
The basics of a good title for your blog post
Writing headlines is a true craft. Newspapers and magazines often have someone on staff whose sole responsibility it is to create titles. He or she will read an article with fresh eyes and then capture its essence in a few words. But, while print media can still get away with a vague or mysterious title (the reader has already purchased the paper, after all), blog titles need to fight for attention with other Google search results. Anything that is unclear will be punished for its vagueness.
The trick is to find a balance between a headline that, on the one hand, clearly describes what the article is about, and, on the other hand, stands out from the crowd and piques readers' interest in the blog's content.
Wondering how to achieve this? Ok, here goes.
Step-by-step plan for a catchy title
1. Start off with a working title
A title sits at the top of an article, but that does not mean you have to finalise it before you get started. In fact, it is better if you don't. Start with a working title, then start writing your post. Let any ideas for a definitive title simmer for a while. In any case, your working title should describe what the article is about. This piece initially had the working title 'Tips for writing a good title for your blog'.
2. Do some keyword research
There are definitely tons of people wanting to know how to write a great blog title. But knowing is better than assuming. That is why I use Textmetrics keyword analysis.

Only a few people seem to be searching for "good title". It's a good thing the tool offers a few possible alternatives.

The keywords "catchy title" show a much higher search volume. I decided to change my title based on that information: 'Tips for writing a catchy title".
3. Describe the length or format
The title above is clear, but not clear enough. It doesn't tell you anything about the length or format of the article. Lists are a popular way to make that clear. Research actually shows that people have a bit of a preference for uneven numbers: "7 tips for writing a catchy title".
That list formula still works, but be cautious not to overuse it. Another way to disclose a bit more about a blog's content is by adding the blog format in brackets at the end of the title: "A catchy title for your blog [step-by-step plan]".
Research done by marketing platform Hubspot shows that that kind of titles receives 38% more clicks. Especially when you incorporate a [podcast] or [infographic] in your blog, this method comes in handy.
4. Make a promise, but don't exaggerate
It is time to make the title catchy. Adding a promise can convince searchers to click on your title. This is what a clickbait site would do: "Here's how to write an irresistible blog title that EVERYONE will click on!"
The problem is that you cannot follow through on that promise. Many readers will be disappointed and disengage. That style is too much hyperbole for the target audience. Be careful with words like irresistible, perfect, very best, etc. (Unless you work for a gossip magazine, that is).
Authority is a great way to follow through on a promise. You can refer to the article's author, who you interviewed for the piece, or which authoritative source provided the numbers. Also aim to quantify the authority, for example by referring to the years of experience or number of followers: "Write a catchy title? This blogger (250k followers) has tips for you."
Aside from bringing attainability and authority to your promise, originality is also a factor. When your competitors are making the same promise, chances are lower that a visitor will click on your website. Google your working title to see how closely it resembles existing blogs. Consider what makes your blog different/better and emphasise that difference: "Avoid clickbait, but still write a catchy title for your blog [step-by-step plan]".
That is how I found out that many blogs about catchy titles still proudly refer to sites like Upworthy, while super exaggerated titles actually stopped generating clicks a long time ago.

5. Place the keyword up front
Google grants higher search rankings to titles with the keyword right up front. Try to adjust your headline accordingly, but do not wade into illogical grammatical territory. One easy trick is to place the keyword up front as a question or followed by a colon.
"Come up with a catchy title? …"
"Catchy title: …"
In this case I went with a contrast: "Write a catchy title for your blog, but avoid annoying nasty clickbait that will bum out your visitors [step-by-step plan]".
It's cool to add a bit of emotion in the title ("annoying" and "bum out"). As long as you don't overdo it ("despicable" and "enrage").
6. Make your title the right length
I'm sure you noticed the title above is a bit on the long side. In the Google search results, that title would get cut off. Use fewer than 65 characters in order to show the full title.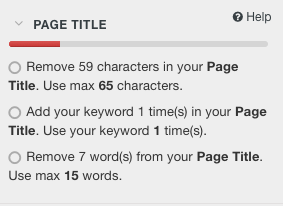 Textmetrics will give you an automatic warning when your title is too long or too short. And so I adjusted my headline to read: "Write a catchy blog title; avoid nasty clickbait [step-by-step plan]".
7. Test what works
In closing: coming up with a great title is still a tricky job. It can be hard to predict what will catch on with your specific target audience. So measure the performance of your titles. Don't just keep an eye on click-through rates (CTR), but also measure how much time people spend on your page (a misleading title will have them clicking away more quickly). Ideally, you will try out multiple titles at once for your most important articles.