My name is Sophie Louise and I am a Dutch photographer and writer. I came to Textmetrics because I would like to have more clients by having a higher rank on Google. I don't have a lot of knowledge about websites and technology, so I build a website with WordPress. Untill recently I did not know anything about the statistics of my website. The only thing I did know, was that none of my clients found me because they searched on Google. Because all of them found me via a friend or family member.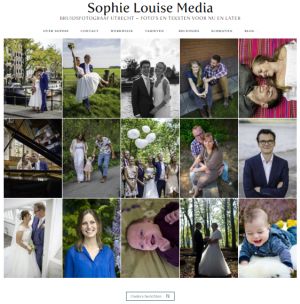 Last week I started to pay more attention to the statistics of my website. I came to the shocking conclusion that only six people visited my website last week. And above that, no one found my website via words like 'photographer' or 'wedding photographer'. They only found me by directly searching for the name of my business. One of the options to get more attention on the world wide web is to pay for an advertorial somewhere. Already 1875 Dutch wedding photographer did that on www.theperfectwedding.nl. That is why I decided to take another road: I want to optimize my web content with the help of Textmetrics so my rank on Google will be a lot better.
My website is the 'shopping window' of my business. With great care I chose the photos and articles on it. I want my potential clients to know that I am good at my job. I hope they want to book me for their wedding or photoshoot because they see my photos and like them. I get most of my customers because they have a friend or family member who told them about my business. But lately I got the feeling that relying on my own circle of friends and family isn't enough. I would like to have more customers, but the competition is high. Having all those colleagues is a big inspiration, but at the same time it makes me feel insecure: how will I ever mange in this big branch as a new and young photographer?
Hopefully Textmetrics will help me. I want my website to have searched engine optimized webcontent to get more clients. So I can keep doing what I love to do: taking photo's of people. The upcoming weeks I will work with WebTextTool to improve my website www.sophielouisemedia.com. On a weekly basis I will post an update about my progress. New customers, I am ready for you! Will you follow me during this transformation? I would be happy to hear your suggestions as well.
Sophie