Op deze pagina vindt en leer je alles over het belang van diversiteit en inclusie binnen het recruitment proces.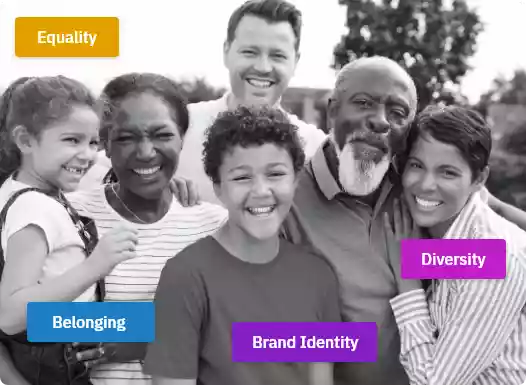 Het belang van diversity recruitment
Diversity recruitment betekent dat je er speciaal op let dat je wervingsprocedures vrij zijn van vooroordelen. Deze kunnen verband houden met leeftijd, ras, geslacht, godsdienst, seksuele geaardheid en andere persoonlijke kenmerken van een kandidaat. Als je recruitment procedure vrij is van deze vooroordelen, kun je gekwalificeerde, diverse kandidaten die uitstekend bij je bedrijf passen, niet langer negeren, afwijzen of per ongeluk discrimineren. Succesvol inclusief werven is de eerste stap naar meer diversiteit en inclusie.
Als je een organisatie bent die werkt aan diversiteits- en inclusie doelstellingen, dan is het belangrijk dat je ook werkt aan diversity recruitment. Door op een diverse en inclusieve manier te werven, bouw je aan een personeelsbestand dat voldoet aan de D&I-eisen van je organisatie.
Diversity recruitment en het Textmetrics platform
Het Textmetrics platform is een taalanalyse platform dat algoritmes gebruikt om je te helpen inclusieve functiebeschrijvingen te schrijven en daarmee diverse kandidaten aan te trekken. Je vacaturetekst zal een meer genderneutrale tone of voice hebben. En woorden bevatten die zowel mannen als vrouwen aanspreken. Je verwijdert ook onnodig jargon. En je past te moeilijke of lange zinnen aan. Je kunt dit platform ook gebruiken om de leesbaarheid van je functieomschrijving te verbeteren.
De leesbaarheid score geeft aan hoe makkelijk of moeilijk je vacature geschreven is. Ten slotte kun je de vacatures scannen op leeftijdsdiscriminatie. Zodat je bewust wordt van eventuele onbedoelde leeftijd vooroordelen. Op deze pagina zullen we verschillende documenten publiceren die te maken hebben met diversity recruitment. En de relatie tot diversiteit en inclusiviteit.
Laatste nieuws over diversity recruitment
Diversity recruitment is one of those things we've heard a lot about in recent years. Why? Well, there are several reasons. For starters, it fits in perfectly with the wish of many organizations to become more inclusive. To build a workforce that reflects society, you...
Lees meer



Low quantity of applicants

Insufficient quality of applicants

No diversity among applicants