Start your 30 day free trial!
Our personal plan is for personal use only, e.g. bloggers, copywriters, freelancers and small webshops. For larger companies our business or enterprise plan is perfect.
Textmetrics helps you optimize content with realtime SEO suggestions, find the best keywords for your website and track Google ranks & progress. It will save you time and money when creating and updating content. And you will be sure that your site is always on-page optimized according to the latest SEO rules, because we keep track of all changes that Google and other search engines are doing and put all this knowledge in Textmetrics. With Textmetrics you can create rank boosting content in a breeze! 
Find it out yourself with our 30 day free trial!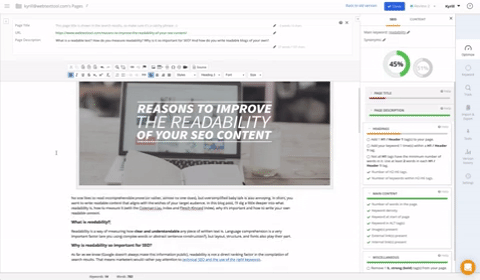 CREATE HIGHLY EFFECTIVE CONTENT
Import your existing web-content or work directly from your favorite CMS. Once you're ready to go, publish it and track progress with Textmetrics's page rank tracker.
KEYWORD RESEARCH & LIVE SEO OPTIMIZATION
SEO starts with finding the right keyword. In only one click Textmetrics provides valuable keyword insights for your text.
While writing your text in the editor, Textmetrics provides realtime optimization tips which you can apply directly. You'll create a fully optimized web text without wasting any time.
WORK DIRECTLY IN YOUR CMS AND WORD
We've developed free plugins for several CMS (like WordPress, Drupal, Joomla, Craft CMS and Sitecore). There's also an add-in for Word. The plugins will help you optimize your content even faster and easier! Read more about our plugins.
"Textmetrics made my life so easy, now I don't have to put extra effort in finding precious keywords. The tool does that for me and my team. This tool will help you to do on-page optimization and is really helpful if you are not a SEO expert."
Nikolay – Content Director at Whale Agency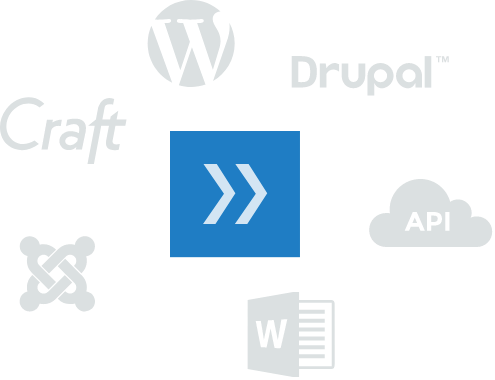 No matter how much you know about SEO, Textmetrics makes sure you'll create rank boosting web content!
THE FOLLOWING FEATURES ARE AVAILABLE IN ALL SUBSCRIPTIONS
REALTIME ANALYSIS
Realtime suggestions on how to improve your content
COMPETITION CHECKER
Want to know which keywords your competitors are investing the most time and effort for ranking high on search engines? Select the target country, add the domain and Textmetrics will show you insights about your competition.
CMS AND WORD INTEGRATION
Textmetrics has various plugins to make the process of writing effective content easier and more convenient. We have Word, Wordpress, Joomla, Drupal & Craft plugins available. Check our plugins page for more information.
FULL SEO RULES
We keep up with the latest news, algorithm changes and updates to search engines so you don't have to. Write your text and we will give you proactive and predictive tips and tricks to improve your text and score better results on search engines.
TEXT ANALYSES
The content reads well and makes sense, but, is it optimised for SEO? A question many of you might have. Forget about those discussions, rely upon Textmetrics's page analyses and get facts instead of assumptions to your web writing process.
SUGGESTING CONTENT TO OPTIMIZE
PAGE VERSIONING
Various people working on the same document? No problem, check your versions, revisions and more with our collaboration features.
IMPORT YOUR CONTENT
If you have an existing website and want to check how your homepage is scoring on SEO, just import the page and see your current page score, you can make changes to your text and later export them.
EXPORT YOUR CONTENT
You can export your content in PDF form, Formatted Word document, Word, Email it to yourself or check the HTML view.
Frequently Asked Questions
In what departments is Textmetrics used?
Textmetrics is used by all departments (Marketing, HR, Corporate Communications, Customers services, etc). All these departments can be assisted by Textmetrics to increase their communications with their target audiences. The more departments that use Textmetrics the better the insight in the business' total communications will be.
Can you give examples of corporate / brand identity and KPI's you can translate in algorithms?
Examples of corporate / brand identity algorithms are: inclusion, transparency, style guide compliancy (among many others)
Examples of KPIs are: SEO goal compliancy, higher conversion rates, lower cost of acquisition (among many others)
What about (printed) content like brochures, letters or emails?
The Textmetrics algorithms help to make text better. Wether it is printed, automated or online.
How does Textmetrics help people who are writing texts?
While writing text, Textmetrics offers real-time suggestions based upon the setting configuration of Textmetrics. While writing, Textmetrics also offers you a total score to see if you have hit the desired quality based on the account / organization settings.
Our content is created in Word / Google Docs / CMS, can we still use that?
Textmetrics can be used stand alone (app via internet), but we have plugins for common used systems like MS Word, Google Docs, Outlook and also for well known Content management systems. Custom integrations are possible thanks to our API.
How about existing content?
Textmetrics can scan all existing content and based on these insights, help you improve the quality.
How do we configure Textmetrics?
Our engineers will assist you configuring the tool. They help you translate your corporate identity and/or brand identity into useful algorithms. They also help you translate departmental goals into the right algorithms. These algorithmic settings can be used throughout the organisation to communicate better with your target audiences.
I hire an external company to write some of my content, how about them?
No problem, other companies can securely become part of the Textmetrics environment. Textmetrics will also assist them to write content according to the settings and you can monitor progress and quality!
What is the cost of licensing Textmetrics?
Pricing depends on usage and organisation size, we are happy to give scope your needs and present a quote. Just give us a call to: +026 808 0191
In which languages is Textmetrics available?
For a list of all features supported in which languages you can visit this page.
What kind of services do we offer?
Onboarding – we'll help every user to fully discover all the capabilities that our tool has to offer.
Dedicated Account Manager – we'll make sure all of our clients have a person dedicated to managing their accounts.
Implementation Engineers – they'll make sure our tool will make a smooth transition within your organisation.
CMS plugins – we have a plugin for all of the most popular Content Management Systems.
Knowledgebase – if you're stuck on something, please refer to our knowledgebase.
Custom Integrations – we're always open to talk about on how to implement a fitting integration with the tools your organization is using
In-company training – we offer training to make sure your employees are able to use the full capability of our tool
What kind of capabilities does the tool have?
Textmetrics helps you analyse the status of your content quality and set text related goals. Define workflows for your team, optimise existing content and assist all operators in creating new (optimised) content. Use reporting environment and our various tool integrations to use Textmetrics in a way that suits your company best. For more information on how to deploy these capabilities check out our knowledgebase.
Which languages does the B1-module (Advanced Content Quality Analysis) work?
Languages supported: Dutch, English, French, German, Italian, Portugese (PT and BR), Spanish and Polish.
More than 10,000 users use Textmetrics to increase their Google Rankings
We would be happy to talk with you
Get in touch and schedule a conversation