Textmetrics's Microsoft Word Addin
Finally, SEO made easy for
everyone!
Create SEO Proof content directly in Microsoft  Word! Register for your free account now.
Textmetrics allows you to create rank boosting content.
With Textmetrics you can

make your content SEO proof

in an easy and efficient way. The tool helps you optimize content with

realtime SEO suggestions

, find the

best keywords

for your content and

track Google ranks & progress

.
It will save you time and money. And you will be sure that your content is always on-page optimized according to the latest SEO rules.
After your have registered your account, you can enter your username and password in the Textmetrics Microsoft Word add-in to use Textmetrics's SEO optimization services directly from Word.
Create your free Textmetrics account
Textmetrics's Microsoft Addin Features
Realtime optimization
Textmetrics optimizes your content in realtime while you are writing it. No need to review, rewrite and republish your content.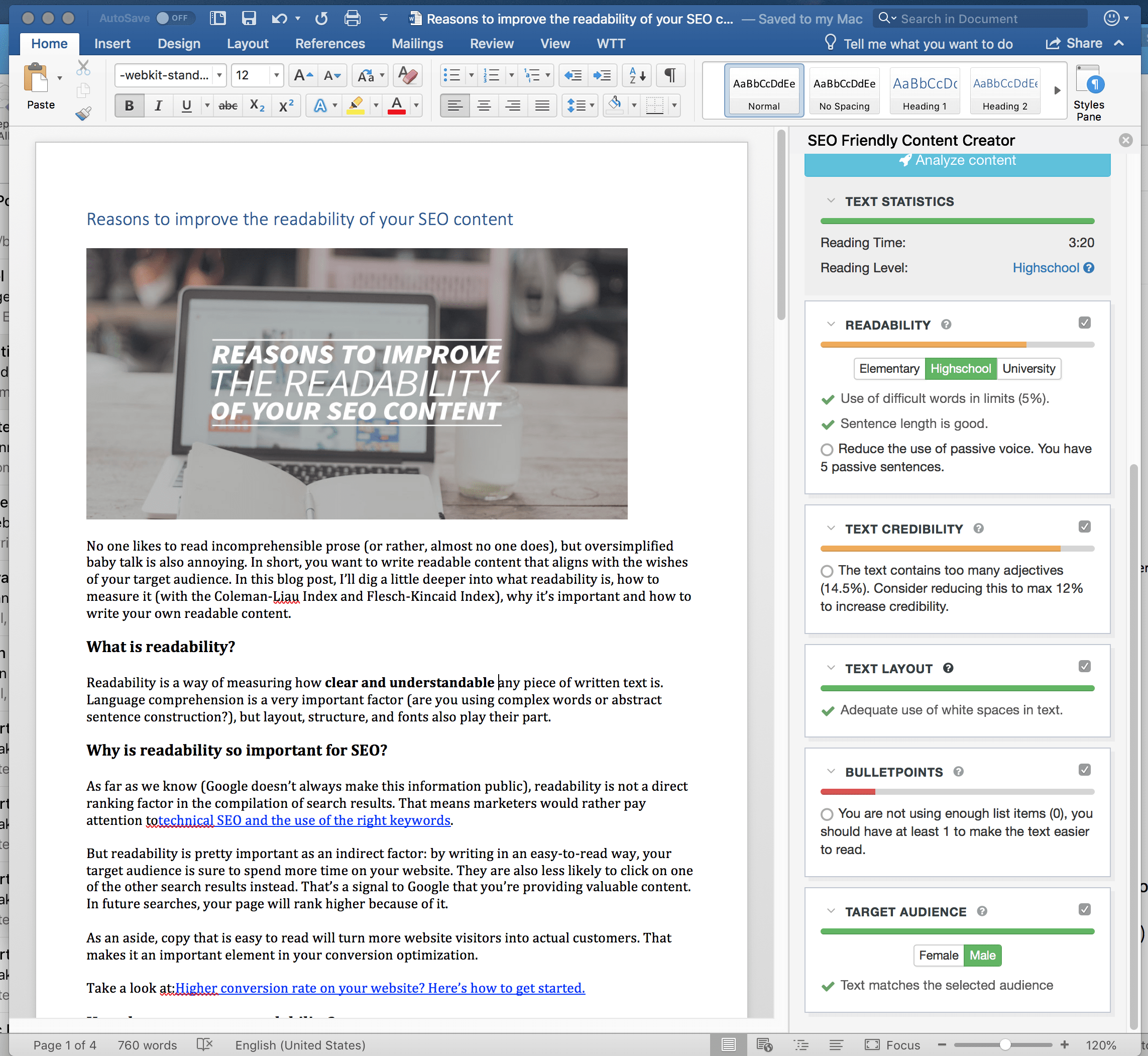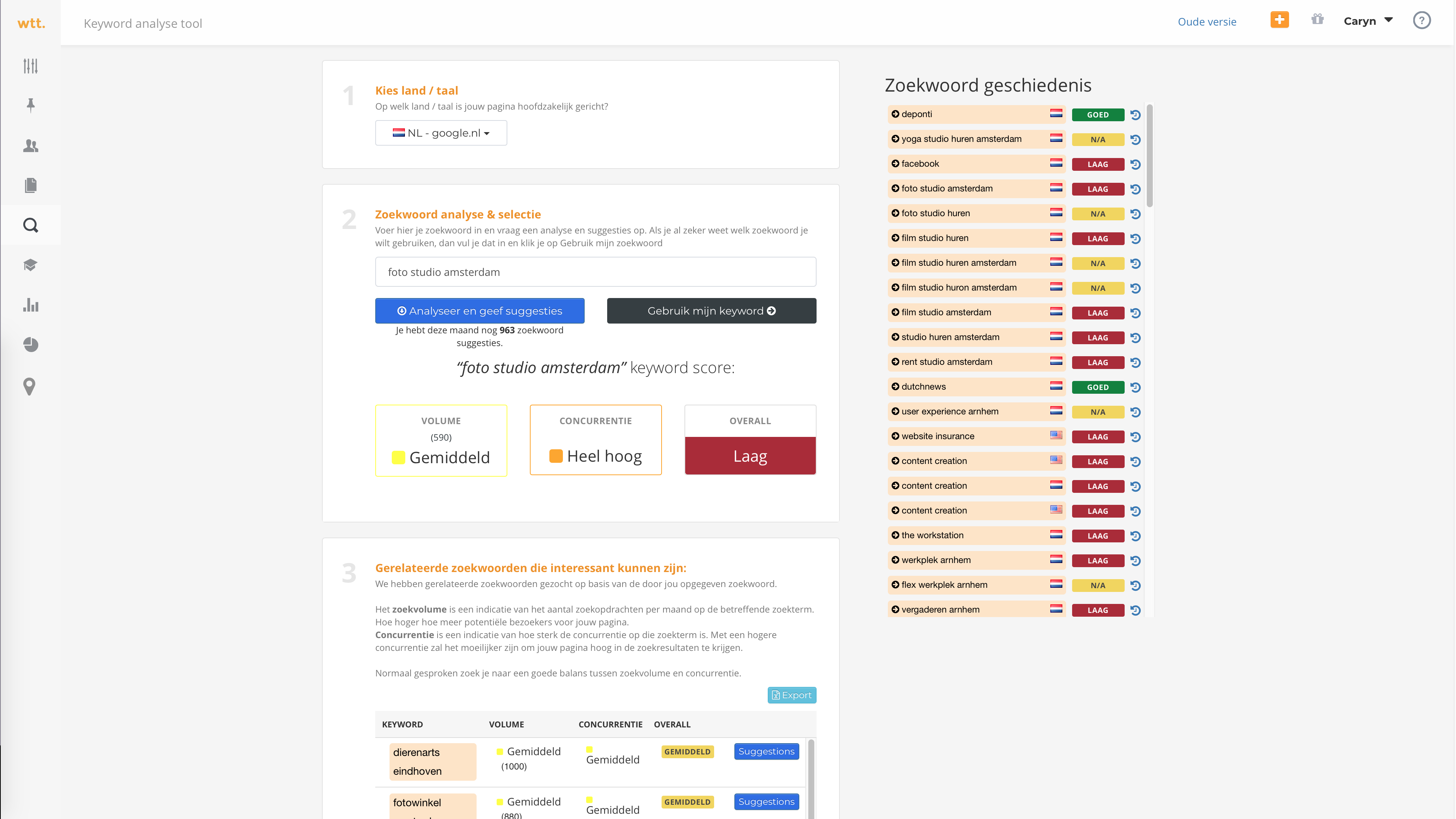 Keyword analysis and research
Choosing the right keywords for your content becomes much easier and faster with our keyword suggestion module. It will analyse your keyword, give you suggestions and advice based on search volume and competition. So you will be sure that you choose the right keyword.
Use the latest SEO rules
We will make sure that Textmetrics applies the latest SEO rules. We will take care of that, so you can focus on creating your content.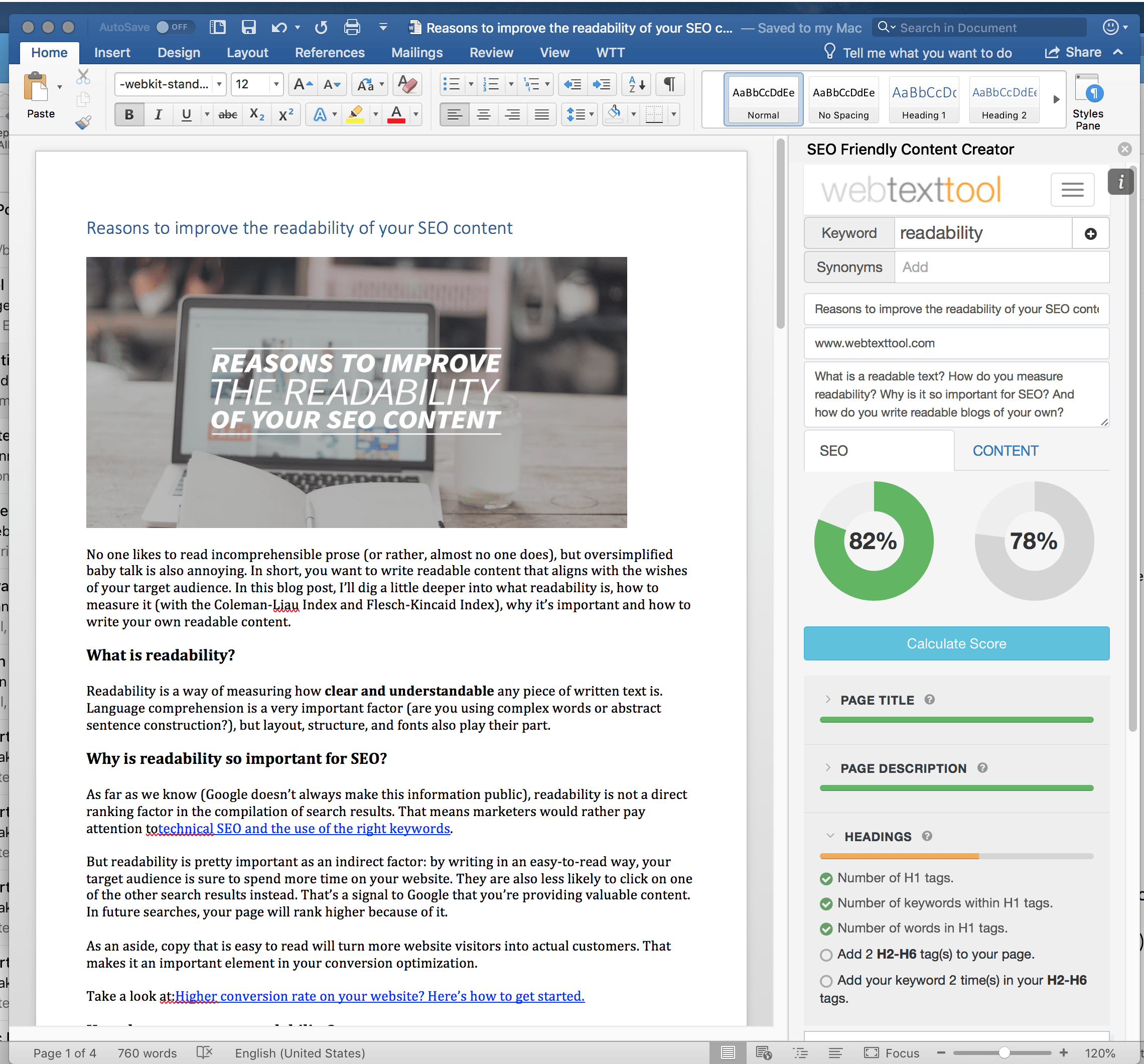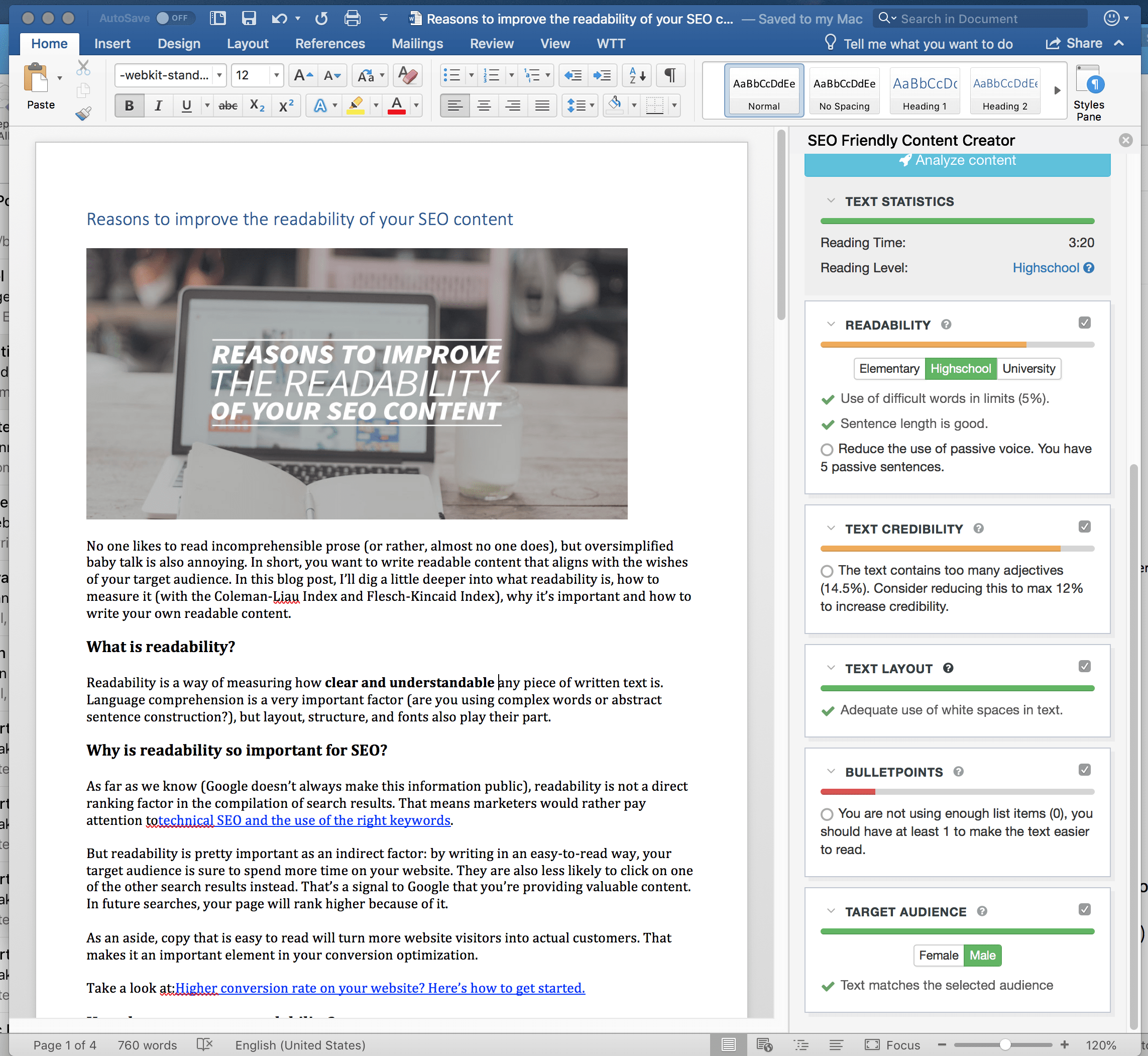 Make content quality a priority
Give your visitors a great reading experience and improve on-page time by ensuring that your content is accessible and easy to read for your intended target audience. Run our automatic checks for word difficulty, jargon and gender inclination.
"Textmetrics is a very helpful SEO tool. The interface clear and simple so I can focus on my strength: writing texts." Niels Vandormael - SEO copywriter at Aces Direct
"Textmetrics made my life so easy, now I don't have to put extra effort in finding precious keywords. This tool will help you to do on-page optimization and is really helpful if you are not a SEO expert." Prerna – Contentmanager at NirmalBharatYatra
"I was SEO skeptic till… Textmetrics helped me seeing the impact that words or better (keywords & formatting) play in Google ranking." Stefano Messori – Design Strategist at strategicdesignhub.com
Frequently Asked Questions
How do we configure Textmetrics?
Our engineers will assist you configuring the tool. They help you translate your corporate identity and/or brand identity into useful algorithms. They also help you translate departmental goals into the right algorithms. These algorithmic settings can be used throughout the organisation to communicate better with your target audiences.
Can you give examples of corporate / brand identity and KPI's you can translate in algorithms?
Examples of corporate / brand identity algorithms are: inclusion, transparency, style guide compliancy (among many others)
Examples of KPIs are: SEO goal compliancy, higher conversion rates, lower cost of acquisition (among many others)
How does Textmetrics help people who are writing texts?
While writing text, Textmetrics offers real-time suggestions based upon the setting configuration of Textmetrics. While writing, Textmetrics also offers you a total score to see if you have hit the desired quality based on the account / organization settings.
Our content is created in Word / Google Docs / CMS, can we still use that?
Textmetrics can be used stand alone (app via internet), but we have plugins for common used systems like MS Word, Google Docs, Outlook and also for well known Content management systems. Custom integrations are possible thanks to our API.
Can I cancel my account at any time?
Yes, you can cancel your account at any time. On your 'my account' page within the Textmetrics app you can easily cancel, upgrade or downgrade your subscription.
How much does it cost?
We offer you a 14 day free trial in which you can use all of Textmetrics's features. After the trial period your account will be changed to a 100% free Starter account. You can also choose to upgrade to one of our paid plans. These subscriptions will give you full access to all of Textmetrics's features. For more information on pricing, see our pricing page.