SEO made easy for
everyone
Textmetrics helps you optimize content with realtime SEO suggestions, find the best keywords for your website and track Google ranks & progress. It will save you time and money when creating and updating content. And you will be sure that your site is always on-page optimized according to the latest SEO rules, because we keep track of all changes that Google and other search engines are doing and put all this knowledge in Textmetrics. With Textmetrics you can create rank boosting content in a breeze!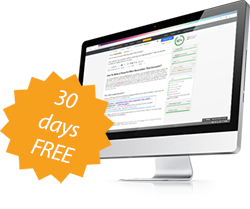 THE SMARTEST, COLLABORATIVE CONTENT CREATION PLATFORM
Easily create and optimize your content and get your website to the top of Google with no added effort on your part! You focus on the creative part, Textmetrics will take care of the optimization stuff!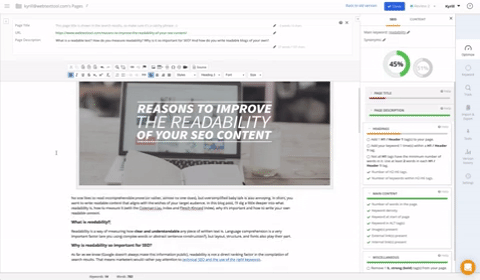 CREATE EFFECTIVE CONTENT, GROW YOUR BUSINESS
While writing your text, Textmetrics provides realtime optimization tips which you can apply directly. Textmetrics generates these optimization tips based on thousands of SEO rules and data points, to assure your text always meets the latest SEO rules!
WORK DIRECTLY IN YOUR CMS AND WORD
For WordPress, Drupal, Joomla and Craft CMS we've developed free plugins. There's also an add-in for Word. The plugins will help you optimize your content even faster and easier! Read more about our plugins.
"Textmetrics made my life so easy, now I don't have to put extra effort in finding precious keywords. The tool does that for me and my team. This tool will help you to do on-page optimization and is really helpful if you are not a SEO expert."
Frequently Asked Questions
How do we configure Textmetrics?
Our engineers will assist you in configuring the tool. They help you translate your corporate identity and/or brand identity into useful algorithms. They also help you translate departmental goals into the right algorithms. These algorithmic settings can be used throughout the organization to better communicate with your target audiences.
Can you give examples of corporate / brand identity and KPI's you can translate in algorithms?
Examples of corporate / brand identity algorithms are: inclusion, transparency, and style guide compliancy (among many others)
Examples of KPIs are: SEO goal compliancy, higher conversion rates, and lower cost of acquisition (among many others)
How does Textmetrics help people who are writing text content?
While writing copy, Textmetrics offers real-time suggestions based on the Textmetrics setting configuration. While writing, Textmetrics also displays an overall score to see if you have hit the desired quality based on the account / organization settings.
Our content is created in Word / Google Docs / CMS, can we still use that?
Textmetrics can be used as a stand-alone-app via the internet, but we have plugins for common used systems like MS Word, Google Docs, and Outlook and also for well known content management systems. Custom integrations are possible, thanks to our API.
Why are you asking for my credit card information?
We ask for your billing details to reduce the risk of fraud and to prevent interruption in service if you decide to continue with Textmetrics after the trial ends. We'll never charge during your trial, and you can cancel anytime.
Can I cancel my account at any time?
Yes, you can cancel your account at any time. On your 'my account' page within the Textmetrics app you can easily cancel, upgrade or downgrade your subscription.
How much does it cost?
We offer you a 30 day free trial in which you can use all of Textmetrics features. After the trial period your subscription starts. During the trial you can cancel your account anytime; there will be no charges. Alternatively you can switch to our free version which offers basic functionality. For more information, see our pricing page.