Textmetrics: schrijf makkelijk en snel relevante en
SEO proof content

!
Textmetrics helpt je om jouw content te optimaliseren met realtime SEO suggesties, het vinden van de beste onderwerpen en keywords voor jouw content en het bijhouden van de Google rankings en voortgang van jouw website.
Met Textmetrics bespaar je tijd en geld bij het creeeren van content voor jouw website. En je bent er zeker van dat de content altijd geoptimaliseerd is volgens de laatste SEO regels.
DE SLIMSTE SEO VRIENDELIJKE CONTENT MAKER
Creër en optimaliseer jouw content eenvoudig en snel en zorg dat je website in de top van Google's zoekresultaten komt. Terwijl jij je focust op het creatieve aspect, ontfermt Textmetrics zich over het optimalisatie deel!
"Textmetrics is een erg handige SEO tool. Het is erg makkelijk in gebruik waardoor ik mij volledig kan focussen op het schrijven van teksten."
Niels Vandormael - SEO tekstschrijver bij Aces Direct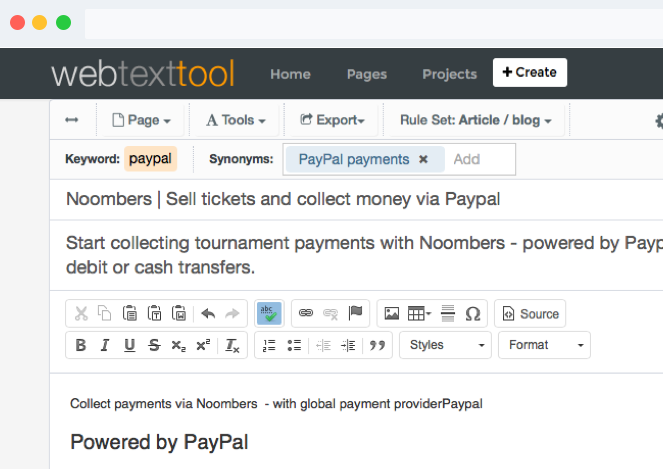 LIVE EN UP-TO-DATE SEO OPTIMALISATIE
Creër en optimaliseer jouw content eenvoudig en snel en zorg dat je website in de top van Google's zoekresultaten komt. Terwijl jij je focust op het creatieve aspect, ontfermt Textmetrics zich over het optimalisatie deel!
"Ik was sceptisch tegenover SEO totdat… Textmetrics mij de impact van zoekwoorden op de Google resultaten liet zien."
Stefano Messori – Design Strategist bij strategicdesignhub.com
WERK EENVOUDIG VANUIT JOUW CMS OF WORD
Voor WordPress, Drupal, Craft en Joomla hebben we plugins ontwikkeld waarmee je nog sneller en gemakkelijker jouw content direct kunt optimaliseren! Ook is er een add-in voor Word. Lees meer over onze plugins.
"Textmetrics maakt mijn leven een stuk eenvoudiger doordat ik geen extra tijd en aandacht meer nodig heb voor het vinden van de juiste zoekwoorden. De tool doet dat voor mij en mijn team. Met deze tool hoef je geen SEO expert te zijn om goede webteksten te  kunnen schrijven!"
Prerna – Contentmanager bij NirmalBharatYatra
Textmetrics guides me to know how to enhance my SEO with a super-easy-to-use interface and helps me to know what keywords I can add to broaden its reach. Even though I am not in the English-speaking area, it's still useful, not weakening its power. It has powered up my content, enabling it to reach more audiences. I can SENSE it and I believe you also can sense it as I when you invest in it. Give it a try! You wont regret it.
Hank Chin – Career Coach & Marketing Consultant at Icebreaking_Pro Image Build (IPIB), Taiwan
I was SEO skeptic till… Textmetrics helped me seeing the impact that words or better (keywords & formatting) play in Google ranking. Textmetrics changed my posture regarding writing on the web. My idea was that no one reads anymore. Therefore, I was relying only on my videos rather than using words. All of this have changed since I have started using Textmetrics.
Stefano Messori – DESIGN STRATEGIST AT STRATEGICDESIGNHUB.COM

The SEO tool of Textmetrics is great to use, very userfriendly. Besides that Textmetrics provides the best, nicest and accurate customer support I experienced in my life!
Dion Rozema – OWNER AT EENSTAGEOPCURACAO.NL
I am an absolute beginner to this stuff but their support is really helpfull. I would consider to upgrade my subscription as soon as my business-idea starts growing. Great tool to optimize my content, highly recommended!
Ivanka K.
I'm new to SEO and i want to learn it for my own business. Textmetrics helps me allot to understand it better and it makes me write good content for my webshop.
Ivo – OWNER AT LIBERTINES
I like the way it tells me what text to place and where to place them. Very nice!
George Ogbert – WEBSHOP OWNER AT ORWEBHOST.COM
I'm a SEO expert and find Textmetrics an great tool to optimize my content on the website/webshop. I'll highly recommend it to my collegues and others.
Mahesh, SR. SEO ANALYST
I believe the story. If you want to be found on internet, you should start with the story of your target group. Textmetrics helps me to find the best keywords for your website and blog.
Caroline D. van Wijk – OWNER AT CLINEKENNISDELEN.NL
Textmetrics is a very helpful SEO tool. The interface clear and simple so I can focus on my strength: writing texts.
Niels Vandormael – SEO COPYWRITER AT ACES DIRECT

Writing SEO content needs proper planning and discipline. Textmetrics helps me write well optimised content in a prescriptive and disciplined manner. I love it! I can write articles about 25-35% faster using Textmetrics thanks to the monitoring of the page elements.
Robert Wakefield – HEAD OF SEO AT WYSI
Textmetrics made my life so easy, now I don't have to put extra effort in finding precious keywords. The tool does  that for me and my team. This tool will help you to do on-page optimization and is really helpful if you are not a SEO expert.
Prerna – CONTENT MANAGER AT NIRMALBHARATYATRA

Textmetrics is the simplest on-page SEO assistant tool that helps you optimize your content. It gives you realtime suggestions to improve your content and make it more SEO friendly. Textmetrics will seriously help you dominate your niche in search rankings and crush your competition.
Mohammad Ahmedzai – SEO CONSULTANT AT STC NETWORK
This miraculous program is a tool designed to assist anyone who wants to create a successful website without SEO knowledge. Textmetrics allows inexpert copywriters and freelancers to generate quality content without worrying about the keywords.One of the greatest things about Textmetrics is the fact that it is incredibly user-friendly and easy to use.
Karan – SEO EXPERT
Textmetrics is a good solution for copywriters and SEO experts to write as good as possible optimized web content. Based on the topic of your website the tool gives suggestions for good keywords and directions to structure your text in a way that it's optimized correctly. It's a handy and easy tool even when your SEO knowledge is limited, but also when you're an SEO expert, Textmetrics can help you optimize your texts even more.
Marketing techblog – DUTCHCOWBOYS.NL
The biggest advantage is that Textmetrics teaches how search engine optimization works, without following time-intensive courses. I would recommend the tool, especially when you have limited SEO knowledge and want to 'score' in the Google search results!
Ben Mualaba – BLOGPLATFORM FOUNDER AT BLOGTROMMEL

It's as easy as typing a bunch of text and the tool basically helps you optimize it properly so that you get the most traction possible with it online. Consequently, your website will rank higher in search results, get more visitors and ultimately, start making you more money.
Mihai Micsa – CONTENT WRITER AT RE-COGNITION
There is no technical knowledge required before you can use Textmetrics, if you can post to a blog or browse Facebook, you can use this web-based tool to optimize your content. If you are serious about ranking high in search engine result page; you need to start making use of Textmetrics to write your content the way search engine likes it.
Martins Oputa – BLOGGER AT TECHBADOO.COM
When I started using Textmetrics, I was skeptical about how much I would use it. The reality is that I will be using it for all of my writing from now on. The features are fantastic and with things like the readability score and the ability to import/export html versions of text, as well as the main elements which give a step by step guide to writing great SEO content are fantastic.
Eoin Finnegan – FREELANCE WRITER, PROOFREADER AND TRANSLATOR.
With Textmetrics I gain insight in how I can optimize my texts for Google. The solution works as an editor with a clear and easy interface in which the suggestions and alternatives for keywords will save you a lot of time.
Peter Güldenpfennig – CLIPBOARD PUBLISHING
Webtextool helps me keeping my SEO up to par and allows me to gain even more value by pointing out opportunities I would miss out on otherwise. With the great deal of progress the tool has shown since its launch, I predict a prosperous future for Textmetrics as a must-have for anyone involved in online content.
Jasper – CONTENT MARKETEER AT KNIVES AND TOOLS
The system is nice and clear. Works significantly faster than 'update' with Yoast. For me, that's also the biggest advantage of Textmetrics.
M. Groot Antink – Tekstmetpit.nl
Is mijn tekst 100% SEO geoptimaliseerd wanneer ik Textmetrics gebruik?
Ons doel is om jouw content zo goed mogelijk te optimaliseren. De manier waarop de zoekmachines content 'bekijken' wijzigt voortdurend. Het kan daarom voorkomen dat de optimalisatie score wijzigt nadat zoekmachines aanpassingen hebben doorgevoerd in hun algoritmes om webcontent te indexeren. Textmetrics werkt altijd met de meest recente SEO regels.
Werkt Textmetrics ook in mijn land / taal?
Ja zeker! De optimalisatie regels werken voor alle landen en talen. We bieden keyword suggesties en pagetrackers aan voor de volgende landen: US,AR, AT, AU, BR, CA, CH, CZ, DE, DK, ES, FI, FR, GR, HK, HU, ID, IE, IL, IN, IT, JP, KR, MX, MY, NL, NO, PH, PK, PL, RO, RU, SE, SG, SI, TH, TR, TW, UK, VN.
Wat zijn de voordelen van Textmetrics?
Met Textmetrics is jouw content makkelijk en snel SEO-proof! Met de Keyword Suggestion Tool vind je de juiste zoekwoorden voor jouw tekst. In de editor schrijf je je tekst en krijg je realtime SEO-suggesties die je direct kunt toepassen. Het is ook mogelijk om je eigen bestaande teksten te importeren door het invoeren van de URL. Je ontvangt direct feedback om tot een 100 % score te komen.  Met behulp van de Textmetrics pagetrackers monitor je eenvoudig de Google resultaten en paginascores. Of je nu veel of weinig verstand hebt van SEO, met Textmetrics worden je webpagina's altijd geoptimaliseerd. Bovendien bespaart het je tijd en geld bij het schrijven van goede content.
Hoe kom ik in contact met Textmetrics?
Wij zijn voortdurend bezig om onze tool te verbeteren. We zijn daarom benieuwd naar je reacties, suggesties en feedback en beantwoorden met alle plezier je vragen via support (at) Textmetrics.com
Ons adres is:
Textmetrics
Gele Rijdersplein 11-1
6811 AN Arnhem
Kan ik mijn account op elk moment opzeggen?
Ja, je kunt jouw account op elk gewenst moment opzeggen. Op de 'mijn account' pagina in de Textmetrics app kun je je abonnement eenvoudig opzeggen.
Wat zijn de prijzen?
We bieden jou een gratis trial aan van 30 dagen waarmee je alle functionaliteiten van Textmetrics kunt gebruiken. Na deze periode start je abonnement. Gedurende de trial kun je je account op elk moment kosteloos opzeggen. Het is ook mogelijk om je account te wijzigen naar onze gratis versie met alleen de basisfuncties. Voor meer informatie, zie onze prijspagina.