How do I use the keyword suggestion tool?
Keywords are words and phrases in your web content that make it possible for people to find your site via search engines. This article show you how to use the keyword analysis and the suggestion tool step by step.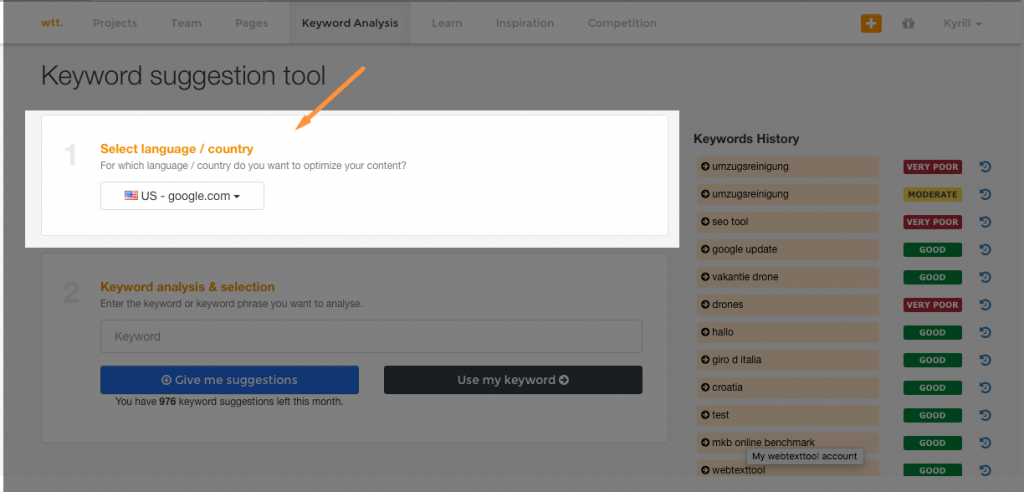 Step 1
The orange arrow indicates where you can select the country / language for which you want to optimize your content. By selecting the right country, you make sure you'll get the relevant country and Google domain.
Step 2
Enter your keyword or keyword phrase in the field, indicated by the grey arrow. For the best results enter up to three words.
When you want to use this keyword you can go to the editor to start writing straight away.
To use the keyword click on the Use my keyword button, indicated by the black arrow. However, it is recommended to analyse and look for suggestions for your keyword first. This way, you make sure you are using the best keyword.
Step 3
Click on the Give me suggestions button to get a list of suggestions based on your keyword. This button is indicated by the red arrow.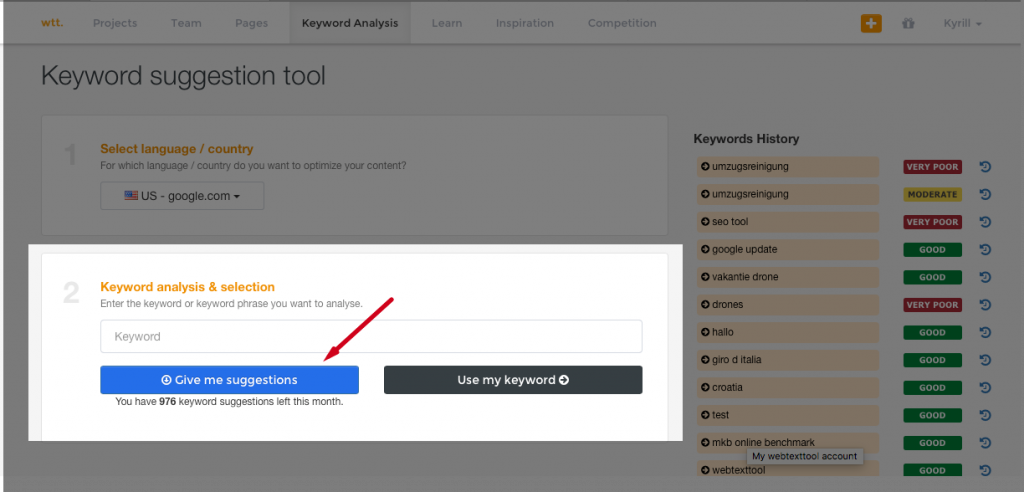 Step 4
The keyword suggestion tool provides information about search volume and competition rates of your keywords. These two flows of information provide the information to use by choosing the best keyword for your optimization process.
The search volume gives you an indication of the number of searches that is done on this keyword per month, indicated by the black arrow. The higher the volume, the more potential visitors you can get if your page ranks high in search engine results.
The competition gives you an indication about how hard it will be to get high rankings in the search engine results, this is indicated by the grey arrow. High competition means that there are a lot of sites targeting at that specific keyword and/or that these sites are strong according to Google.
The overall score is based on the volume and competition, indicated by the red arrow. The green arrow indicates the keywords history; this feature contains the keywords you analysed and their scores. This feature also allows you to look for suggestions straight away by clicking on the Suggestions button. If you want to use a keyword from the keyword history, you can click the keyword.
The next step is writing your new content in the editor. You can find more information about the editor in this article.
Tip: to make sure you'll have a quick start you can follow the tour. This tour introduces you to all the features and possibilities of Textmetrics. You can start the tour by clicking on the Tour button in the menu.