Can I import my existing webpages into Textmetrics?
Textmetrics has the feature to import an existing web page by URL. With this feature you can import your page and optimize it with Textmetrics. This article shows you how to import an existing page step by step.
Step 1
Create a new page by clicking on the button Create or New Page, indicated by the orange arrows below.
Step 2
Select the language / country for which you want to optimize your page.
Choose your main keyword for your page. You can also fill in some synonyms above.
To get more information about keyword analysis and suggestions read this article.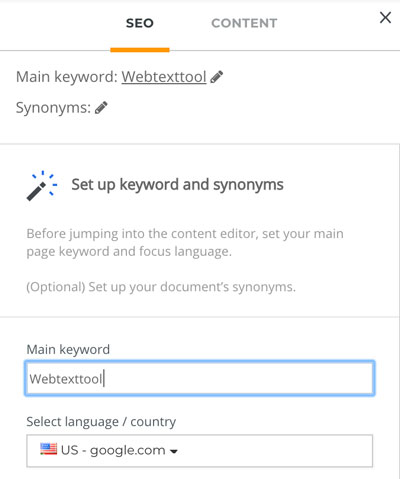 Step 3
Select the page button, indicated by the orange arrow, then click on the option Import & Export.
Step 4
When you completed Step 3, a window will appear. You can enter the URL (web address) of your existing page at the field.
When you click on the Load button, the text of your existing page will appear in the editor.
Now you can start optimizing your page. Want to know more about the editor? Take a look at this article!
Tip: want to get more structure when creating several pages? Use projects to keep it organized! Take a look at this article to find out more about creating projects.
Tip: to make sure you'll have a quick start you can follow the tour. This tour introduces you to all the features and possibilities of Textmetrics. You can start the tour by clicking on the Tour button in the menu.