Google's mobile-friendly update  affected mobile search in many ways. One is that not only websites but apps show up in SERP results with an install button. This opens the door to more app installs outside app store listings.
As there are various ways how your app could appear in mobile search (paid ad spot, app packs, recommendations, organic short snippets), thus, there are as many ways to influence this ranking. But first, let's first examine why you should invest your time in search optimization for mobile apps.
Why SEO for Apps is Vital for Your App Marketing Strategy
With Google confirming that more searches occur now on mobile devices than they do on desktops, and having many ways in which your apps can appear in search results, it's becoming increasingly important to be visible in mobile searches.
That being said, getting your mobile apps found in mobile search results is not only relevant to acquire new users but to retarget existing ones. It could happen that your users are looking for something, you're offering in your apps. Doing SEO for apps, you can make them return to your app just by clicking a search result.
The Most Common App Discovery Methods
To install an app, people go to mobile app stores like the Google Play Store or Apple App Store. But many apps are discovered outside of these distribution platforms. To understand the drivers behind app discovery and engagement, Google partnered with Ipsos MediaCT to research on consumer app acquisition and usage behaviors.
The study showed that 40% of the apps are discovered through app store search.
But where is the rest coming from? It includes various channels such as friends, family and colleagues, search engines, company website and television ads. Out of which a major 27% (or 1 in 4 people) discover and install apps from search engine results.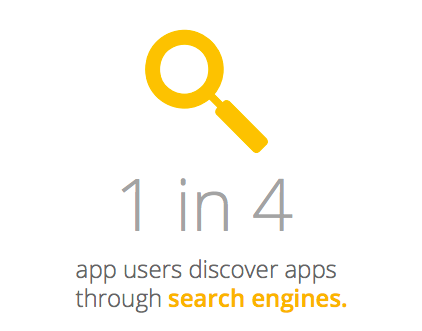 This concludes that if you never thought about SEO for your app or if it isn't visible in the (mobile) Google search, you are losing 27% of the potential traffic.
Not only organic search results, Search ads are effective in driving app downloads too. Out of all types of ads used for app promotion and installs, 50% of the downloads are influenced by search ads and the other 50% via all different kind of ads combined.
With search being such an important driver of app installs, every app marketer must invest in app SEO.
SEO Ranking Factors for Apps
It's pretty much clear that SEO for mobile apps is as important as any other optimization, let's find out what influences your app's ranking in the search results. To sum up, it is majorly influenced by almost the same factors, you should also watch for App Store Optimization: Keywords, Ratings & Reviews and Quality Backlinks.
Keywords: Like any other SEO strategy, mobile apps also need the right keywords to rank higher in search results. Find the right keywords using Google Keyword Planner or some third-party ASO tool (e.g. App Radar) and strategically place it in your app's title and description. It could additionally help when your app package holds the brand name and relevant keywords too since it'll be part of your app store listing URL.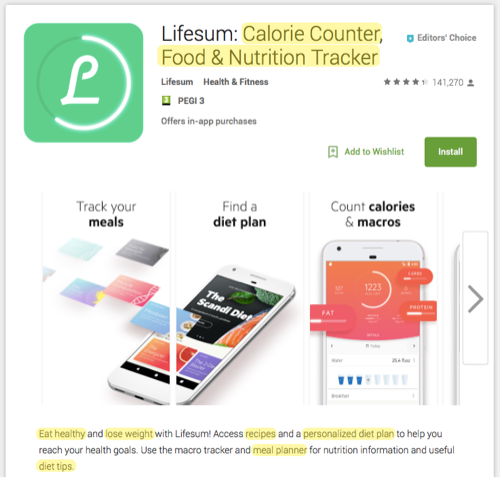 Ratings and reviews: These not only affect your ranking in mobile app store search results (App Store Optimization) but they are also a significant factor in SEO. Google's ranking factor is highly dependent on what users think about your app so having good ratings and reviews is of utmost importance.

Quality backlinks: No SEO strategy is complete without backlinks. Start by adding a link to your download page from your website, and try to get different media talking about your app. The domain strength is the key here, and the more quality backlinks you have, the better Google will rank your app in search results.
Tip: Add a link towards your app store download page within the header of the mobile version of your website, or build a dedicated landing page to promote your mobile apps.
How Users Find Apps in Mobile Search
The methods mentioned above are pretty generic for ranking your app on search engines. There are other essential steps that you need to check to make sure your app is ranking high.
Generic Search: App Packs
The most common way, how your app will appear in web searches is via App Packs. According to Searchmetrics, even one in ten mobile searches has an app pack result.
An App Pack is a group of suggested apps that come up in search results when you send an app-specific query. For example, if you search for "nutrition tracker app", you will get an app pack result consisting of several suggested diet apps.
Each app card contains an app name, icon, rating and some price information. The results are device-specific, i.e. for people searching on Android devices, the results will be from Google Play Store, whereas for people searching on iOS devices, the results will be from Apple App Store.
Depending on what a user was searching for, an App Pack can contain between 30 to 100 apps. By default, however, only three to six apps are shown. To see more, the user has to click on "More apps".
Organic Brand Search: Single Results
When someone searches for your app in specific (branded search or long-tail search phrase), a preview of your app store listing could be shown.
This kind of SERP shows the app information in a single snippets straight from Google Play. That includes the app name, icon, rating information, the first line of your app description and an install button. By clicking the install button, the user gets redirected to Google Play for installing the app.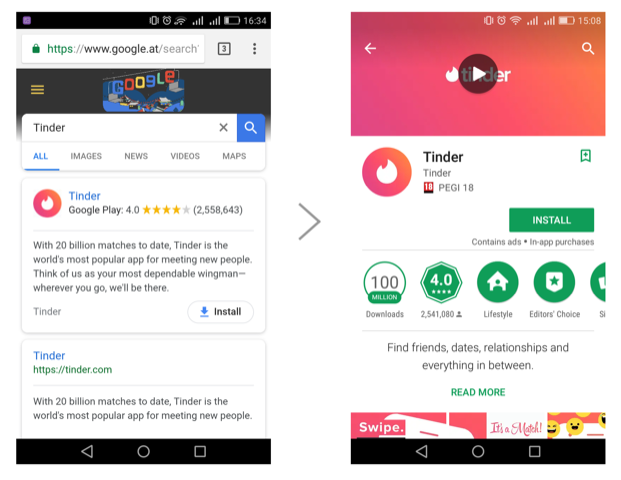 Searching for Specific App Content: App Indexing
Google not only ranks entire apps, but allows to crawl and rank internal app screens, thanks to App Indexing. In more detail that means if users have your app installed, they can find specific app content in Google Search. By clicking on the results, users can can open the particular content directly in the app. This helps you engage existing customers to use your app.
Except for re-engaging users, App Indexing is even useful to acquire new users. If new users (someone who does not have your app installed yet) send search queries relevant for your app, this triggers an install card for your app in search results.
App indexing helps you make sure Google has indexed your app and it will be visible in searches. More than that, Google actually confirmed that app indexing will start counting as a ranking signal for Android users.
To setup App Indexing for your app, you need to integrate the App Indexing API.
How to Boost Visibility in App Store Search
After discussing all the ways to make your app rank higher in web search results, one must not forget that the number one app discovery channel is still app store search. Thus, you should not forget about App Store Optimization.
What is App Store Optimization and How Does it Differ from SEO for Apps?
In case you are not sure, what App Store Optimization (ASO) is about, let's quickly summarize it:
App Store Optimization is an iterative process to improve the visibility of your app in mobile app stores. Similar like in SEO, ASO is about increasing one's ranking in relevant search rankings. The most crucial difference between SEO and ASO, however, is that ASO mainly happens in mobile app stores (like Google Play Store or Apple App Store), while SEO focuses on web searches.
How to Optimize Your App for App Store Search?
Now there are many aspects of ASO but some basic ones that should be on every app marketer's radar are Keywords, the App Title, Ratings & Reviews and the number of downloads.
That means in order to appear in app store search results your app needs to be considered relevant for the user's search phrase. You can influence how the app store algorithm indexes your app by strategically putting keywords into the app title, subtitle, keyword field, short description and description.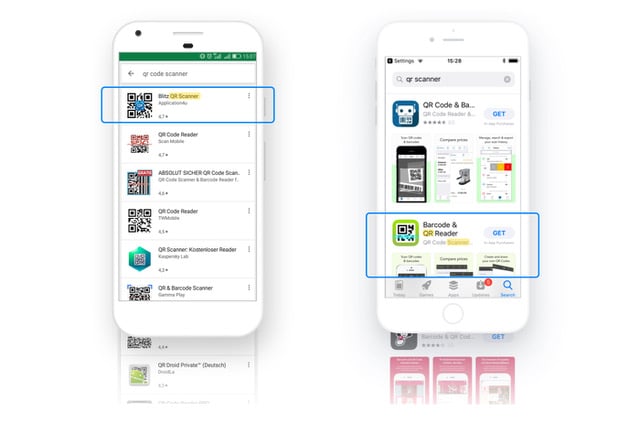 There are various tools to simply track your ranking in app store searches. If you however want to measure your app's search performance and take action (editing app information) right in the same tool, you should try App Radar. It's an ASO Tool designed for making App Store Optimization easy and less time-consuming for you.
Moreover, to rank high in search, your app needs to show an appropriate amount of app downloads, a number of user reviews and a good average app rating. Certain app performance and usage metrics (e.g. crashes, retention and user engagement) let the app stores indicate the quality of your app. It should be of every developers interest to work on their apps continuously. Doing so, it's more likely to achieve a great ranking in both, search results and top charts which in turn will bring more loyal customers and steady revenue.
If you wish to learn more about ASO, click through this free App Store Optimization Guide. 🙂
Final Thoughts
To sum up, search – performed in both, web or mobile app stores like the App Store or Google Play – is a great driver of organic app downloads. If you master search optimization in terms of SEO and ASO, you are on the right track to run a successful app business. By optimizing your app information to appear high in organic search, you can ensure a high ROI as your app marketing don't depend on paid user acquisition methods.
I hope this article answered most of your mobile app SEO queries.
In this sense – Always keep optimizing 🙂
About the author:
Silke is marketing manager at App Radar, an ASO tool helping marketers and developers increasing the organic reach of their mobile apps and games at ease. Together with the team of App Radar, she continuously looks for new ways to simplify App Store Optimization and loves to write about mobile app marketing.