You've probably noticed that Google's search results are becoming much more visual. Instead of just a string of text links, you'll more often get served a lineup of images, videos, cards, and lists. Some of those results are reserved for giants like Wikipedia or Google Maps, but there's also a slot where mere mortals find themselves in the spotlight: Position Zero – also known as the Featured Snippets. Keep reading this article to discover what the #0 ranking position is, what makes it so important, and how to get your own website into that spot.
What is Position Zero? (a.k.a. Featured Snippet)
Some questions don't take very long to answer.
For example: how do you boil an egg?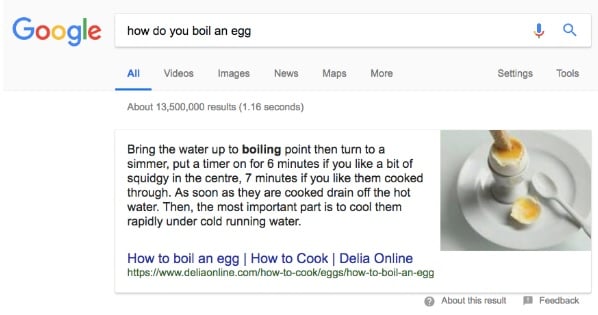 If you want to know more, you can click through, but many readers will be satisfied with a short answer like this one. That's exactly why Google rolled out Featured Snippets: to provide anyone who's searching with the quickest possible results.
So how does it work in your favor to land in that Position Zero spot? Many people won't actually click through to your website since the answer is right there. Online marketing giant Hubspot conducted research and concluded that a page in position 0 will actually receive 114% more visitors than the page in position 1. Let's say that's pretty effective.
Is it relevant to your company?
Featured Snippets often answer how/who/what/why questions with concise answers. For any organization there are certainly answers you can come up with that will help you reach your target audience.
But reaching the 0-position isn't in the cards for everyone. As a small business owner, the smartest strategy is to set your sights on local SEO.
If you're struggling to rank highly in search results on a regular basis, it's best to concentrate on general SEO tips like link building and readability.
1. Look for the most suitable candidate
Is your website reaching top ranking quite frequently? That's the perfect opportunity to aim for that Position Zero.
Hubspot's research shows that traditional ranking factors like site authority have much less of an impact in the choice of the Featured Snippet in the top results. Identify keywords that are already helping you score and decide which questions to match them with. Are you unsure of your top ranking keywords? With a solution like Textmetrics Content Ranking Index, it's easy to keep an eye on the keywords that are working in your favor.
2.
The exact question in the title
By now you have a list of keywords that are improving your Google ranking. Take a closer look: are they the kind of how/what/where questions that Google usually places in Position Zero?
If they are, but someone else is ranking on top: keep optimizing your page for a position 0 ranking. More on that in a moment.
If they are not: try to think of related questions that could help you land in the #0 position. Textmetrics keyword analysis will offer you search queries related to your top keywords!
3. Write a text of 54-58 words
Perhaps your readers enjoy an elaborate literary essay on a specific topic, but it won't land you in Position Zero.
Try to answer a question as simply and clearly as possible. The ideal text length hovers between 54 and 58 words.
Does that mean that your blog or article needs to be that long (or short)? Absolutely not! In fact, Google loves it when you do a (structured) deep dive into your material. Just be sure to include a short summary that provides an answer to the main question.
4. Lists and tables for the win
It can be tricky to explain in just a few words how something works or what it's all about. That's when it's smart to use stylistic devices like:
lists (just like this one);

rankings (1, 2, 3);

or columns and tables to outline more complex information.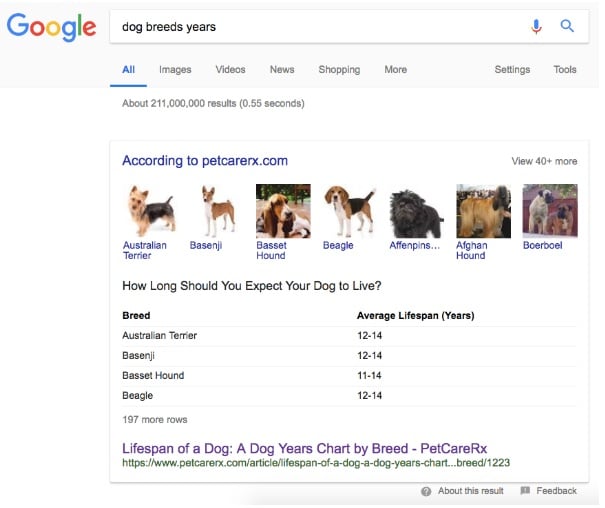 Petcarerx.com has a table in its Featured Snippet
5. Compile related questions and answers
Any question can lead to yet another question. It's a great opportunity to reach the Position Zero slot in even more search queries. That's why it's important to include links to related questions in your articles and posts.
A simple way to find related questions is to type your own search query into Google. At the bottom of the results page, you'll find alternative questions that people are searching for.
Example:
How do you make iced coffee?
Related searches:
How to make iced coffee with milk?
How to make vanilla iced coffee?
6. Monitor your Featured Snippets
The Position Zero ranking is never set in stone. That's great news if you have yet to reach that top position, but a bummer if you're already on top. That's why it's smart to keep an eye on your ranking in searches that are essential to your website and audience.
With the Content Ranking Index, you can monitor how you rank for (a maximum of) 30 different keywords compared to your competitors. Thanks to automated weekly or monthly reports, it's easy to know when it's time to take action.
7. Automate your search engine optimization
Think of Position Zero as the pinnacle of your SEO strategy. It is the final optimization that can help you overtake your competitors. However, it's important to keep track of the basics of search engine optimization. Ensure that all your content is automatically made Google-proof. For example, try the SEO-editor by Textmetrics (also available as a plug-in for WordPress, Drupal, Joomla, SiteCore, and Word).