How do our 20.000+ users increase their Google rankings?
Textmetrics is made for anyone who creates web content. No matter how much you know about SEO, text conversion or keyword analyses, Textmetrics makes sure you'll create rank boosting web content!
Our secret: Big data
Textmetrics creates predictive data, by analyzing the data of all our users (anonymously).  10.000+ user generated texts are analyzed and compared to real-world outcomes. The best performing outcomes are used to better our real-time optimization tips.
YOUR BENEFIT: MORE WEBSITE TRAFFIC
While writing, Textmetrics provides live optimization tips. Apply the suggestions and rank higher in the search engine results.
sAVE TIME: NO REWORK
Why spend time rewriting your text afterwards to make it SEO friendly? Use Textmetrics and write an optimized text from the first time.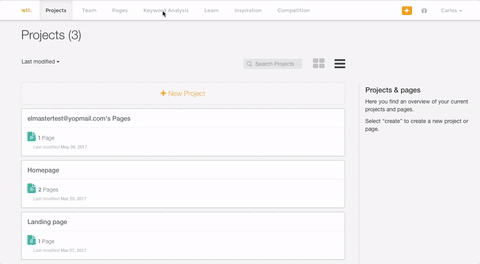 KEYWORD RESEARCH & LIVE SEO OPTIMIZATION
SEO starts with finding the right keyword. In only one click Textmetrics provides valuable keyword insights for your text.
While writing your tekst in the editor, Textmetrics provides realtime optimization tips which you can apply directly. You'll create a fully optimized web text without wasting any time.
create highly effective content
Import your existing webcontent or work directly from your favourite CMS. Once you're ready to go, publish it and track progress with Textmetrics's page rank tracker.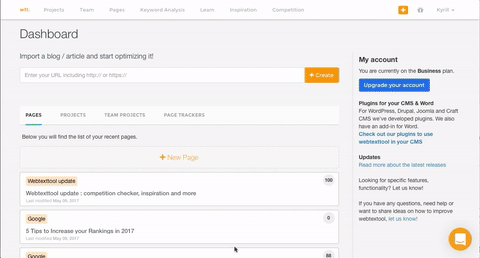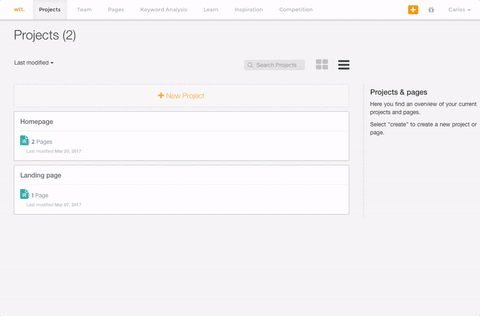 get inspired on your own specialism
Get inspired for your next blog with the inspirationmodule! Enter your subject and find popular pages around your subject.
Looking for the score of your competitors? Fill in your domain and discover the top competitor domains and keywords.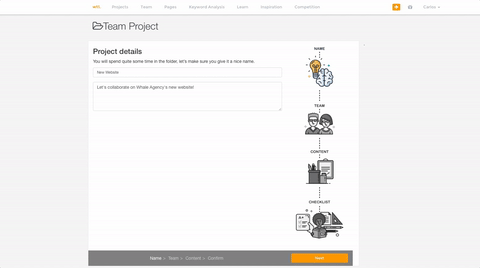 COLLABORATE with colleagues or clients
With our Textmetrics Business and Enterprise plan, you can work together with your colleagues or customers on projects and pages.
Work efficiently in teams together on content creation and search engine optimization of your content.
WORK DIRECTLY IN YOUR CMS AND WORD
For WordPress, Drupal, Joomla and Craft CMS we've developed free plugins. There's also an add-in for Word. The plugins will help you optimize your content even faster and easier!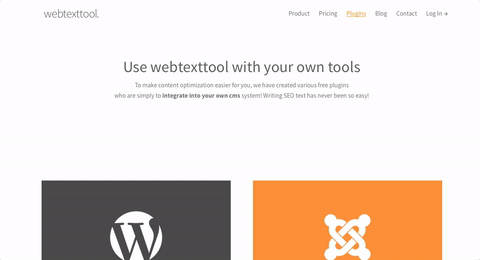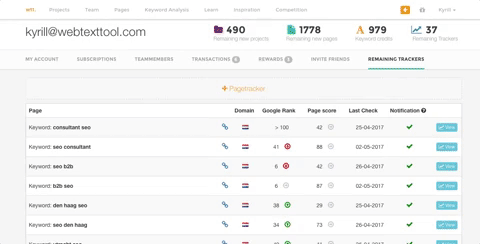 SEE HOW YOUR WEBSITE GROWS ON THE INTERNET
Once you hit 'publish' and your web page is up and running on the internet just grab its URL and paste it on our page tracker module. We will track your page's position on search engines and send you periodic emails for you to know how your pages score.
Ready to get started ?
Get in touch or create an account.