Jetzt kostenlosen 30 Tage Test starten!
Our business plan is perfect for business from 2 – 20 employees, e.g. larger websites, companies and online marketing agencies.  For companies with more than 20 employees we offer a enterprise plan.
Textmetrics helps you optimize content with realtime SEO suggestions, find the best keywords for your website and track Google ranks & progress. It will save you time and money when creating and updating content. And you will be sure that your site is always on-page optimized according to the latest SEO rules, because we keep track of all changes that Google and other search engines are doing and put all this knowledge in Textmetrics. With Textmetrics you can create rank boosting content in a breeze! Find it out yourself with our 30 day free trial!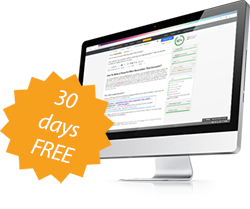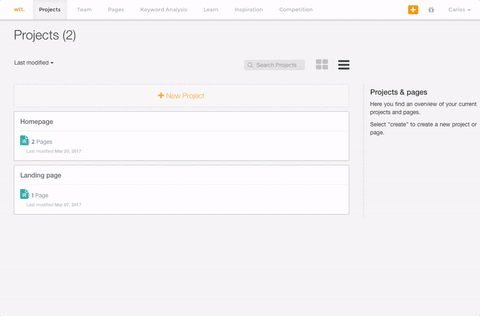 get inspired on your own specialism
Get inspired for your next blog with the inspirationmodule! Enter your subject and find popular pages around your subject.
Looking for the score of your competitors? Fill in your domain and discover the top competitor domains and keywords.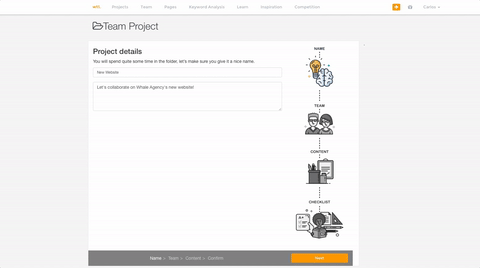 COLLABORATE with colleagues or clients
With our Textmetrics Business and Enterprise plan, you can work together with your colleagues or customers on projects and pages.
Work efficiently in teams together on content creation and search engine optimization of your content.
WERK EENVOUDIG VANUIT JOUW CMS OF WORD
Voor WordPress, Drupal, Craft en Joomla hebben we plugins ontwikkeld waarmee je nog sneller en gemakkelijker jouw content direct kunt optimaliseren! Ook is er een add-in voor Word. Lees meer over onze plugins.
"Textmetrics maakt mijn leven een stuk eenvoudiger doordat ik geen extra tijd en aandacht meer nodig heb voor het vinden van de juiste zoekwoorden. De tool doet dat voor mij en mijn team. Met deze tool hoef je geen SEO expert te zijn om goede webteksten te  kunnen schrijven!"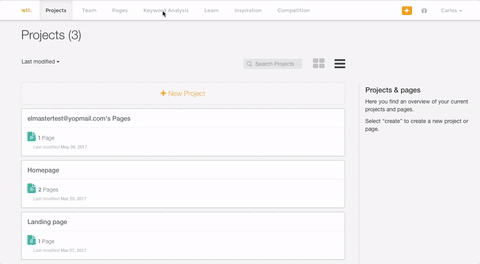 KEYWORD RESEARCH & LIVE SEO OPTIMIZATION
SEO starts with finding the right keyword. In only one click Textmetrics provides valuable keyword insights for your text.
While writing your tekst in the editor, Textmetrics provides realtime optimization tips which you can apply directly. You'll create a fully optimized web text without wasting any time.
No matter how much you know about SEO, Textmetrics makes sure you'll create rank boosting web content!
THE FOLLOWING FEATURES ARE AVAILABLE IN ALL SUBSCRIPTIONS
CONTENT INSPIRATION
Type the content of your article and see how Textmetrics suggests different high-quality sources for you to get inspired. You can import those articles, build on top of them and release your next content masterpiece.
COMPETITION CHECKER
Want to know which keywords your competitors are investing the most time and effort for ranking high on search engines? Select the target country, add the domain and Textmetrics will show you insights about your competition.
CMS AND WORD INTEGRATION
Textmetrics has various plugins to make the process of writing effective content easier and more convenient. We have Word, WordPress, Joomla, Drupal & Craft plugins available. Check our plugins page for more information.
FULL SEO RULES
We keep up with the latest news, algorithm changes and updates to search engines so you don't have to. Write your text and we will give you proactive and predictive tips and tricks to improve your text and score better results on search engines.
TEXT ANALYSES
The content reads well and makes sense, but, is it optimised for SEO? A question many of you might have. Forget about those discussions, rely upon Textmetrics's page analyses and get facts instead of assumptions to your web writing process.
PAGE VERSIONING
Various people working on the same document? No problem, check your versions, revisions and more with our collaboration features.
IMPORT YOUR CONTENT
If you have an existing website and want to check how your homepage is scoring on SEO, just import the page and see your current page score, you can make changes to your text and later export them.
EXPORT YOUR CONTENT
You can export your content in PDF form, Formatted Word document, Word, Email it to yourself or check the HTML view.
Frequently Asked Questions
More than 10,000 users use Textmetrics to increase their Google Rankings
Ready to get started ?
Get in touch or create an account.